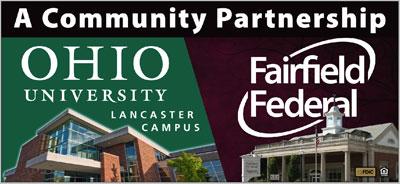 FAIRFIELD FEDERAL SUPPORTS LANCASTER CAMPUS RENOVATIONS STUDENT MEZZANINE HONORS EARL C. KEATON
October 22, 2009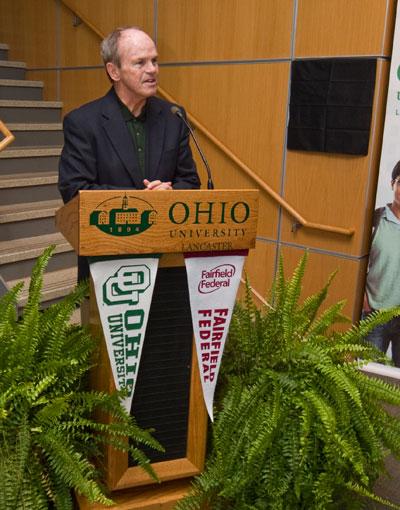 Fairfield Federal Savings and Loan's Earl C. Keaton was remembered Thursday (10.22.2009) with the naming of the upper level of the Ohio University Lancaster Campus entrance in his honor.

"The Earl C. Keaton Mezzanine serves as a special space for our students, all commuters, to study and meet friends," said Campus Dean John Furlow. He explained that most students and guests enter from the north parking lot, so creating an inviting entrance was important. A $50,000 contribution from the bank enabled the Campus to construct the north entrance as well as the mezzanine, which connects to the student athletics and activities office and the fitness room as well as the upper library.

"I hope that this partnership serves as a model for many other businesses and institutions in Fairfield County," said Furlow. He also thanked the bank's board of directors and staff for helping to provide a positive learning environment for Lancaster Campus students.

"Thank you for naming this area for my Dad," Ron Keaton said as he and Furlow unveiled the memorial plaque. "He would be very proud to be a part of this institution."

When Keaton joined Fairfield Federal Savings and Loan in 1937, the country was coming out of the second wave of the depression, according to his son and current managing officer of the bank. "Dad joined the bank in 1937, and then went off to war. He returned to the bank, and in 1945 was named managing officer." The elder Keaton took the bank through periods of growth, such as the housing boom of the early 1950s when GIs were buying homes.

Ron Keaton hopes that many businesses and companies will see the value of investing in higher education. "Education is one of the primary ways into economic recovery. Lancaster needs to be a university town."

Fairfield Federal, which has operated in Lancaster since 1895 and for nearly 30 years in Pickerington, also sponsors the summer Friday Night Bandstand entertainment with Lancaster Parks and Recreation in downtown Lancaster and the Fairfield County Tennis Tournament, assists Lancaster High School girls' basketball and supports Pickerington Parks and Recreation's Family Friday Night Movies and music at the senior center.